An Outdoor Classroom Right in Your Backyard
Have you been watching birds?
The Tug Hill Bird Quest is a fun way for anyone to learn more about the birds that visit our neighborhoods and backyards. It also provides a yearly record of the types and number of birds that are present at bird feeders each May in the Tug Hill region.
The Tug Hill Bird Quest is open to everyone. K-8 classrooms, home schoolers, youth groups, families, and individuals that live in the Tug Hill Region are welcome and encouraged to participate! It's free, it's fun, and it's a great learning opportunity.
Scroll down for all the details and to register!
Taking a break from indoor activities and turning our attention outside to watch birds can refresh us, reconnect us to the natural world, inspire curiosity, and help us become life-long learners. Your observations during this community science event also contribute to our multi-year collection of data about bird activity in our area!
Filling the feeder
Female Grosbeak Oriole and Goldfinch
Homeschool Bird Quest
A female Cardinal at a sunflower seed feeder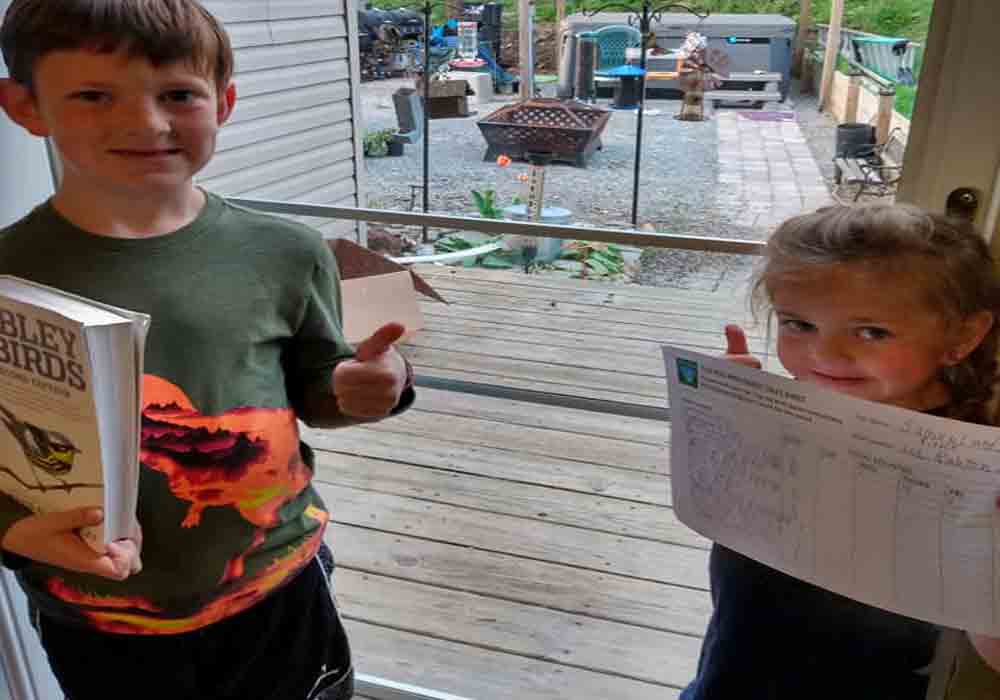 Brother and sister bird together
Bird Watchers by Emmanuel Vaucher
The Tug Hill Bird Quest connects kids with nature and is easy to incorporate into any classroom or home setting!
Here's How It Works:
Early Bird registration before December 31st allows teams to choose to receive emails containing fun facts and learning activities weekly January through April.
Don't want to be an Early Bird? All teams can sign up online or by email any time before April 1st to participate. Both Early Bird and regular teams receive Bird of the Day emails in May providing pictures and bird identification tips.
Teams in need can request to receive birdseed, a bird feeder and/or a Tug Hill natural history guidebook free of charge. All supplies are provided on a first come, first served basis as materials are available. Supplies are either delivered or picked up by teams in mid-April.
Teams install and add birdseed to their feeder(s) at least 2 weeks before the official observation week begins.
Teams watch each day and record the bird species and how many individuals of each they see during the official observation week.
Teams download and complete THTLT's tally sheet and submit the form to THTLT no later than one week after the end of observation week.
THTLT compiles the team tally sheets and provides a report to all teams in June.
Here's How To Participate..
Register your team here:
Tug Hill Bird Quest REGISTRATION
Download:
Bird Quest: How to Watch & Count Instructions (PDF) »
Bird Quest: Tally Sheet (PDF) »
Have questions or are interested in participating:
Please give Lin Gibbs, our Community Programs Director a call at 315-779-2239 or email her at lgibbs@tughilltomorrow.org.
Learn More... Download these activities and visit these online sites...
Looking for a specific bird?
Learn out more about the birds you see using the North American Bird Guide online at: www.audubon.org/bird-guide
Special thanks to these local businesses who have generously provided bird feeders and seed for the Bird Quest: