An Outdoor Classroom Right in Your Backyard
A record level of interest in 2020!
The 2020 Tug Hill Bird Quest this spring was an eye-opener for many around the region.
We opened participation up from students and youth groups to anyone with an interest in watching birds at their home feeders while we all tried to stay safe from COVID19.
A total of 57 homeschool groups, families and individuals responded from both within and near Tug Hill and all four counties  – a record level of interest!
We were able to distribute over 700 pounds of bird seed for use by our feeder teams, thanks to the generosity of our sponsors: Rudd's Town and Country, Ace Noble Hardware, Home Depot, Lowe's and Walmart!
Not only did most observers welcome back birds flying in from South and Central America, like the Baltimore Oriole and Ruby-throated Hummingbird, but almost everyone observed the bright yellow plumage appear on our year-round resident, the American Goldfinch. All varieties of woodpeckers, except for the Pileated, were seen, as well as Northern Cardinals, White-crowned Sparrows, Rose-breasted Grosbeaks, and a few Indigo Buntings.
What a colorful spring! 37 species of birds were seen at feeders, with fly-bys here and there by Canada Geese, Tree Swalllows, and even Bald Eagles. Chipmunks and Red Squirrels also made appearances, of course.
Bird Quest is a fun way for anyone to learn more about birds that visit their own backyards. This initiative is designed for K-8 classrooms, home schoolers, scout groups, and families that live in the Tug Hill Region.
What exactly does Bird Quest entail?
Participants record the bird species, and number of times they visit a bird feeder during the designated week of observation (2021 Date TBD).
Bird seed and feeders are provided free of charge (as available) to each classroom, home school, or group. Data sheets are provided by THTLT that you fill out and then send back to us.
A complimentary copy of the Tug Hill Guide to the Natural Side naturalist book.
To make sure the birds know the feeders are there, we recommend participants hang up the feeders 2-3 weeks in advance.
Teachers are also given lesson plans and materials to help them incorporate the Bird Quest into their lessons. You can download the Backyard Activities PDF to begin brainstorming!
Outdoor Classroom
Taking a break from focusing on being inside, and turning your attention outside to bird watching gives you a fun opportunity to engage with nature. It shows you something beyond yourself, and can help inspire a lifelong love of learning and observing wildlife.
At the end of the official observation week, participants send us their data sheets and we will compile their findings. The Bird Quest connects kids with nature and is easy to incorporate into any classroom or home setting!
Learn how to get started...
Download:
Bird Quest: How to Watch & Count Instructions (PDF) »
Bird Quest: Tally Sheet (PDF) »
Have questions or are interested in participating:
Please give Linda Gibbs, our Community Programs Director a call at 315-779-2239 or email her at lgibbs@tughilltomorrow.org.
Filling the feeder
Female Grosbeak Oriole and Goldfinch
Homeschool Bird Quest
A female Cardinal at a sunflower seed feeder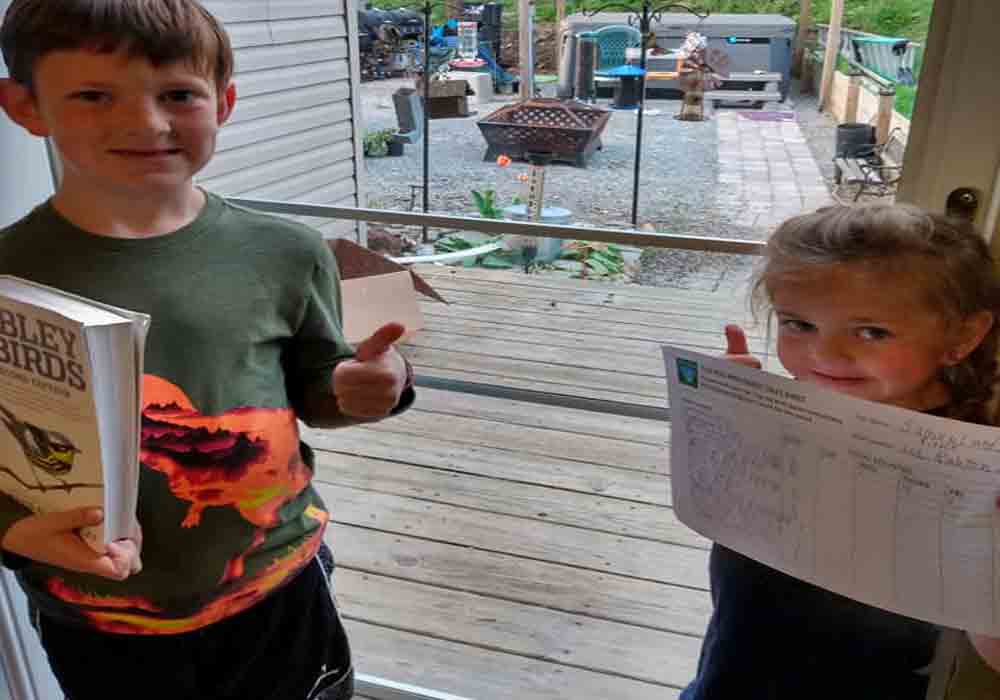 Brother and sister bird together
Bird Watchers by Emmanuel Vaucher
Learn More... Download these activities and visit these online sites...
Looking for a specific bird?
Learn out more about the birds you see using the North American Bird Guide online at: www.audubon.org/bird-guide
Special thanks to these local businesses who have generously provided bird feeders and seed for the Bird Quest: